A documented sustainability leader
RA Group is committed to making sustainability and societal improvements in- tegral components of every project associated with the RA brand. At RA Federal Services it is our goal to meet or exceed the high standards set by our Headquarters. Our clients want results – fast. And that is what we deliver. But our ambitions reach further: We want to positively impact the societies and communities in which we operate.
We improve lives and conditions by providing jobs, training and education, and by supporting local small and medium-sized enterprises.
In addition, we respond to important community needs where we are present, based on the principle of doing "what we can, where we are."
To act responsibly and sustainably is at the heart of our company culture – and our success.
» Learn more: Download RA's 2021 Sustainability Report
A UN Global Compact SDG Pioneer
Anywhere we take on projects, we apply the highest standards, ensuring that we follow the ten principles of the UN Global Compact. Also, we have decided to cut our CO2 emissions in accordance with the Paris Agreement – even in the most distant corners of the world.
To illustrate the part we are playing in the world's shared plan to end extreme poverty, reduce inequality, and protect the planet by 2030, we link our material topics to the UN Sustainable Development Goals. Our strategy is structured around our efforts in environment, social, and governance (ESG) matters.
In recognition of our achievements in this area, our Sustainability Manager Vera Karmebäck has been selected a 2022 United Nations Global Compact SDG Pioneer. She is one of only 10 globally to receive this award, based on having "demonstrated extraordinary progress and commitment towards advancing the Sustainable Development Goals."
Already in 2008, RA International became a Signatory to the UN Global Compact. We are active members of the UN Global Compact Networks in Kenya and the UAE. Our CEO Soraya Narfeldt is regularly invited to speak at high-level events to share insights and learnings from RA's sustainability efforts. She was a panelist at the UN Global Compact Leaders Week in New York in 2019 and at Target Gender Equality LIVE in 2021 and 2022.
» Read how we reinforce the 10th principle – "Businesses should work against corruption in all its forms"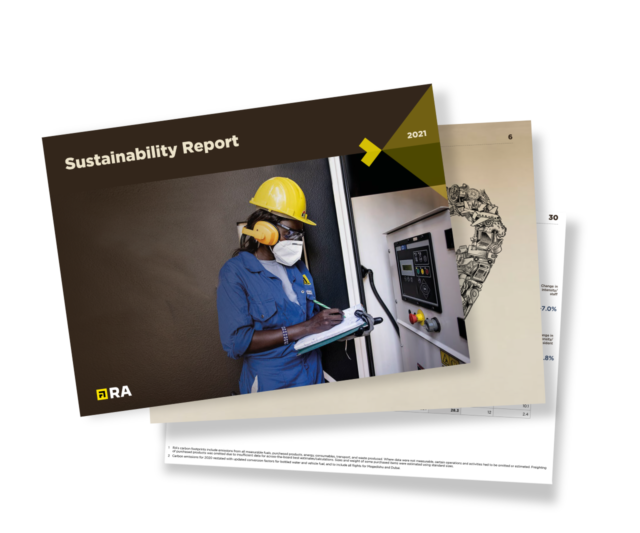 OUR PURPOSE
"We deliver immediate results and lasting change."
This expresses our long-held belief that a successful RA project is one which has an enduring positive effect on local communities, while delivering business results.
Our sustainability journey
Join in as RA's Sustainability Manager Vera Karmebäck gives insight into our sustainability strategy, ambitious targets and proud achievements.